TOMORROW I'LL BE TWENTY by Alain Mabanckou
Su Andi | July 13, 2013
TOMORROW I'LL BE TWENTY by Alain Mabanckou, winner of the Grand Prix de la Litterature (sic)
Publisher: Serpent's Tail (9 May 2013)
ISBN-10: 1846685842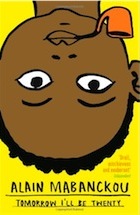 "if a woman's big it means she has a big heart."
I like this quote but it took much more to make me like this book.
I am often apprehensive about African fiction, fearing that any links to folklore will expose my lack of knowledge as a Nigerian daughter.
Mabanckou has woven a tale, through the eyes of a child, with a global aspect.
They say wisdom lies with the old but after reading this delightful book, a tale of fiction heavily embroiled with fact, I have to disagree. The narrator is a young boy living with his mother and 'adopted' father. He lives with the spirits of his unborn sister whom he misses daily and, daily, speaks to - mainly because he knows that his mother is desperate for another child, if only to prove to the rest of the town that she is 'normal' and 'good'.
His adopted father Papa Roger exploits his position as a hotel receptionist to French visitors, to collect, read and digest abandoned books. This broadens his own intellectual understanding and enables him to pass his slightly askew knowledge onto his second wife, Michael's mother.
So it is that Michael takes the reader through a time frame of global political movement far beyond the borders of the Congo. We are given insight into the Nazis; the deposing of the Shah and the power takeover of the Ayatollah Khomeini; the best and worst of Britain and American responses; and corruption in bordering African states.
And alongside all of this is a simple story of a boy growing up, the depth of his friendships, and his deep and at times rejected love for Caroline, who already has her future planned out: married with children, a red car and a white dog.
Michael is observant, laugh out loud funny and sometimes startlingly astute, in particular concerning African's position on the global arena: "Perhaps if you're rich in this life, you always want to be richer, and you stop noticing that the people around you have nothing." This observation is repeated almost as a mantra while, overhead, he watches planes flying to destinations that Michael and his best friend can only imagine.
There is myth and folklore woven into what is in reality an autobiography. Some are explained, others are ridiculed. Much the same as superstition has evolved in the West, gossip will always be malevolent and evil.
Millions of African children have because mere statistics of famine, war and political unrest. Mabanckou reminds us of the individual, he teaches us that Africans do not only look inwards with lost and confused vision. Instead he mischievously unravels the myth, making Michael believable and the Congo alive with energy.